Repeater Options
The detailed options of the repeater are edited in the Repeater Style modal view. The Repeater Style view can be accessed from the Repeater panel, or by using the Repeter Options command from the Styles - Repeater menu.
The repeater options can be saved and reused as styles or presets. The Styles field opens a list of previously created repeater styles and presets, while the Create Style and Create Preset commands to create new styles or presets from the current options.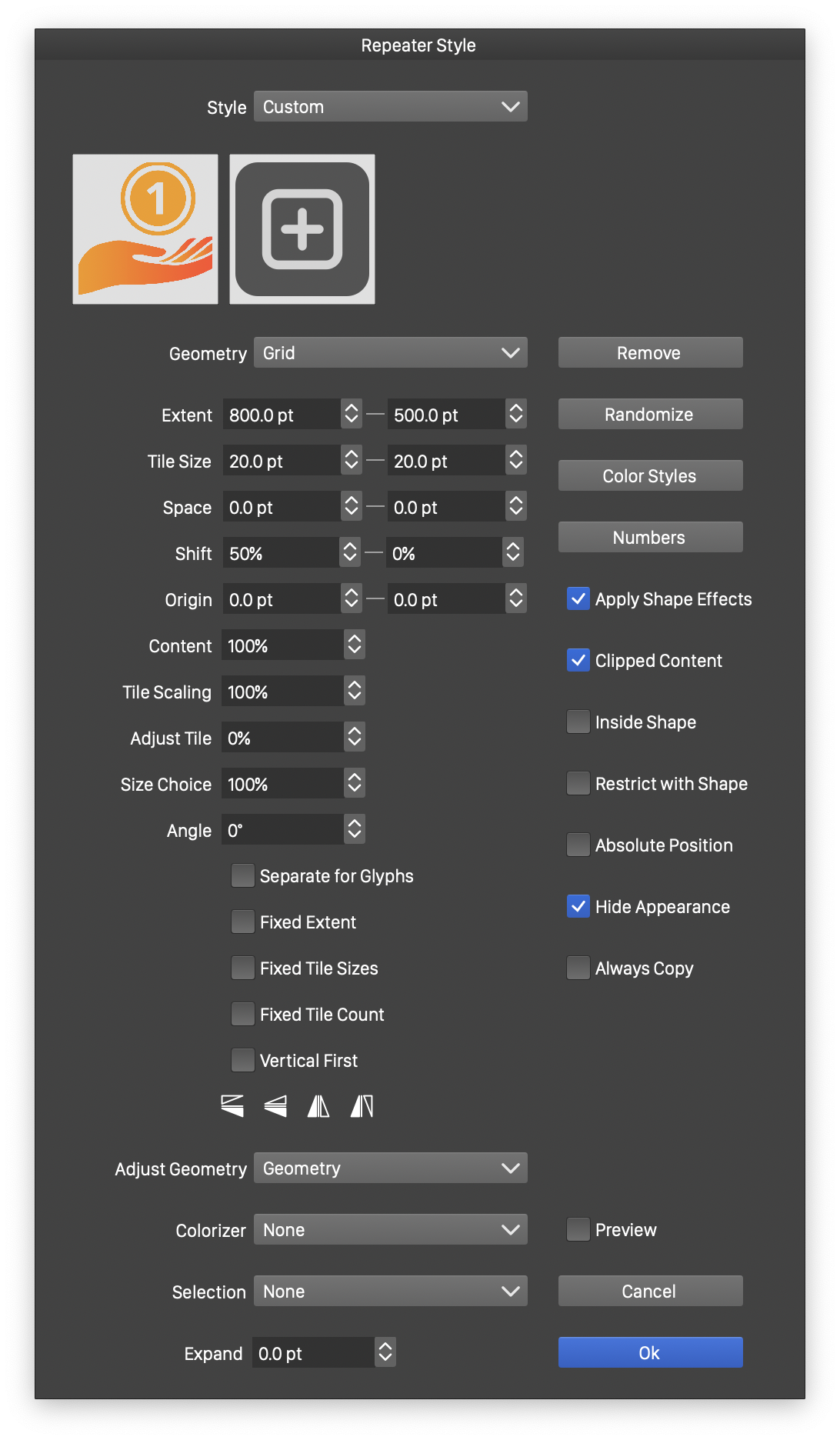 Managing the Symbols
The symbols and objects used in the repeater are shown in the horizontal list at the top of the repeater view (just under the Style field). Click on a symbol to select it.
To add a new symbol, click on the "plus" icon and select a symbol for the menu.
To remove a symbol, select the symbol and click on the Remove button.
To change a symbol, double click on the symbol send select another one from the menu.
Repeater Options
The repeater style view provides access to the following options:
Style - Create and reuse repeater presets and styles.
Geometry - Select a repeater geometry scheme, or existing preset or style.
geometry options - the middle (left) section of the repeater view contains the selected geometry specific options. For more details see the Geometries page.
Adjust Geometry - Select or edit the geometry adjustment scheme. For more details see the Adjustment page.
Colorizer - Select or edit the repeater colorization scheme. For more details see the Colorizer page.
Selection - Select a randomization scheme used to pick from multiple symbols when creating the repeater content.
Expand Area - Expand (or shrink) the repeater region area, when the repeater is inside a shape.
Apply Shape Effects - Enable or disable the use of shape effects on the repeater content. When enabled, the repeater content is distorted by the shape effects applied to the object. When disabled, only the object shape is distorted, while the repeated content fills the distorted shape.
Clipped Content - Enables or disables the clipping of repeated content by the object shape that is being filled by the repeater.
Inside Shape - Show repeated objects only that are fully inside the shape of the containing object.
Restrict With Shape - Enable or disable the use of the repeated object shape to check insideness in the containing object.
Absolute Position - Enables or disables the use of an absolute origin for the repeater geometry. When enabled, the grid repeater aligns the tiles.
Hide Appearance - Enables or disables the hiding of the overlapped appearance of the object containing the repeater. This option is enabled by default, resulting in the hiding of any content of the object that is below the repeater content (see the Appearance panel).
Preview - Preview the selected repeater options.